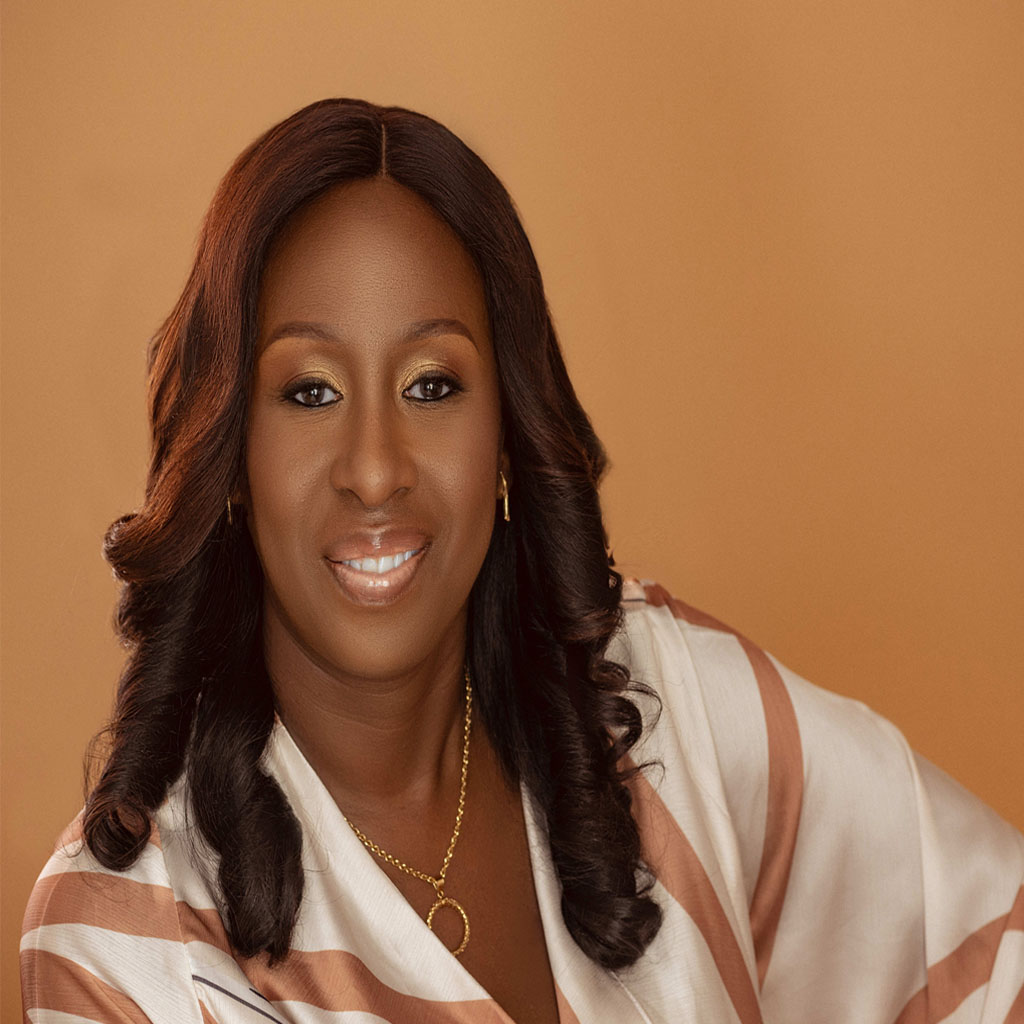 "Na so you and your husband go get una own station and do plenty program like this for night"
As Tayo hear the voice, na so she jump. No bodi dey the house expect her, so the voice come dey make her wonder where e deg come put from. Many pipo go say na just your imagination of wetin you dey think, but anoda thing say no be so.
The pesin wey Tayo dey wan marry neva tell her anytin say he go one day get hin own station wey go dey read news.
Na that voice nai start the beginning of Tayo to dey broadcasting journey.
For 2004 nai Tayo Okotie-Eboh and her husband come form Crown Radio Global. But na for 2010 nai Crown FM enta radio, and naso every bodi for community, business pipo, and even the state govimet dive enta like pesin wey see new born baby.
As e be say Crown Radio Global every bodi wan drink from the company well, Naso Tayo just see hersef say she dey give advice to companies, the advising come dey make belle sweet her as she just dey fit solve problem without stress. As the desire to do the advising big, naso Crown Business Consultancy take start, to dey solve any gbege wey any company get, then dey give dem beta opportunity.
Crown Radio just blend to dem listeners. As e be say Pidgin nai be one language wey most pipo dey speak, from there nai program come up wey dem go dey speak pidgin sometimes instead of the normal English. Still with all these Tayo still dey feel say something neva complete. From there she enta fasting and praying to get solution to how she dey feel, God wey nor dey sleep come ansa her prayers, naso the vision for Kpoko Broadcasting.  aka KpokoFM take start, for 2016. E come be say KpokoFM nai be the first Pidgin station for Delta State. Pipo like am finish, e come dey win plenty awards, and even come dey drag shoulder with hin sista Crown FM wey be the nuba one radio station for the state, and na that position e still stand.
Through out 2019, Tayo come dey tok for one program wey be Business Coach on Radio, on Monday mornings and Rise and develop your state on Fridays  
As she nor like to put here for only radio, naso Tayo take rub her mind to enter entertainment. E come be say she like all competition shows, nai Tayo come do her own competition show. 2019, Crown Gospel Music Talent Hunt come start. The show make pipo wey dey put ear for Crown Radio get  chance to show dem skills for music inside radio. The final of the show come be for outside with plenty pipo to come look. Wetin dem give as price nai you dey ask? Oya hear, na record deal, cool monie and the pesin go be Crown FM Radio ambassador for one year. Of course, Base on say Tayo nor wan make other record labels come dey branama ontop talent wey she epp pipo find, naso Crown Records records take start.
As the pipo wey dey listen don plenty, Tayo come see say e dey good to let the community pipo know about serious problem wey dem dey pass through and dem fit nor know. Na that one come born 'Parables' wey be drama series for radio.To enta issues, give pipo wey dey hear experience wey other pip don face and ontop of am dey make pipo happy even as dem dey learn. Even with all this one her belle full small but e nor full reach.
Tayo get mind for television but as other pipo firm dey her hand wey she dey manage, she get do am small small. Nor be say she nor dey happy for the things wey don happen o, but anoda phase wan roll in. The period wey covid-19 come come, na there Tayo eye come open to another level. Even though say Crown TV Africa don bin dey back of her mind, but na that covid period e come dey get life inside her mind. Crown TV Africa main koko na to get  financial freedom as the road to success. The main bottom pot of Crown TV Africa na to let Africans know about the wealth and opportunities wey dey around dem and dem nor dey see am.
You fit follow Tayo for her social media handles: