Our military don release Uthman Abubakar, north-east regional editor of Daily Trust Newspaper.
Na Mannir Dan-Ali, editor-in-chief of the newspaper nia announce the release after he receive Abubakar wen one army officer carry enter the Maiduguri office.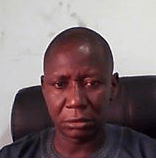 On Sunday, soldiers ball enter the head office of the newspaper for Abuja and their regional offices for Maiduguri, Borno state capital, and Lagos.